Social Involvment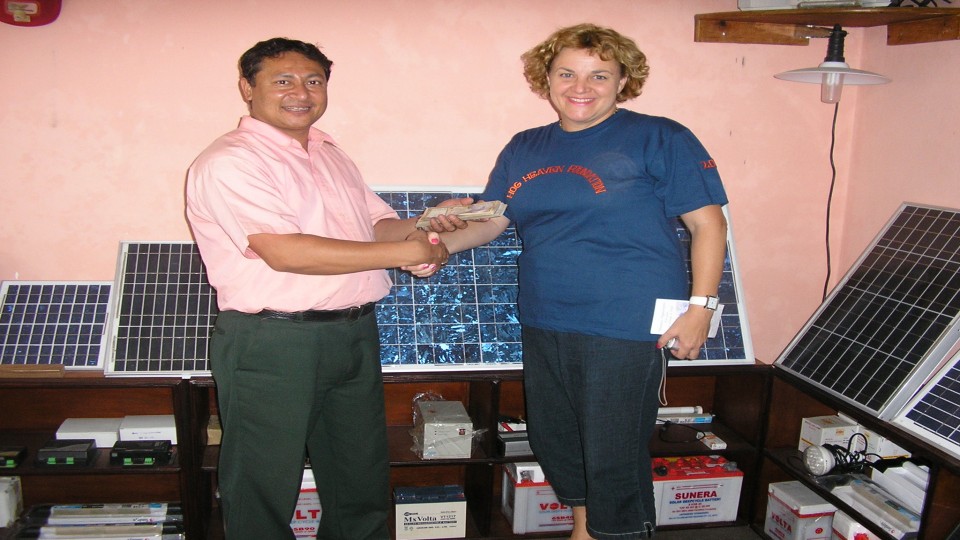 SOLAR AID VOLUNTEER PROGRAM
Swogun's Solar Aid volunteer program has been running successfully over the last few years. Its ultimate mission is to provide renewable energy for rural communities in Nepal.
Swogun's Solar Aid volunteers install solar home systems in rural communities, public houses, libraries, temples, health posts etc.
After installation, training is provided to ensure that users can take proper advantage of having light after sunset. This includes the teaching of income generating skills; like weaving, carpet making, etc. This helps the villagers to become self-sufficient.
How do volunteers work with our Solar Aid Program?

On the first few days of your visit, you can explore Kathmandu Valley. You can learn various aspects of Nepalese culture - the people and their way of living.
You then travel to the installation site, which are usually a day bus ride from Kathmandu and a day's walk from the bus stop. After an intensive one day training in the village, volunteers install the system at the selected venue. Finally, our technician checks each system connection before the final installation.
The Solar Aid program emphasizes cross-cultural exchange. So during the installations, you will stay with families. Accommodation is simple and shared with family members. Nepalese traditional food is taken sitting on the floor with family members. Hands are use to eat food instead of spoons. You will enjoy joining in with typical Nepalese family activity because the system is entirely different to western culture.
How does this program work with local communities?

For most applications a 40 watt Solar system is appropriate. So the volunteer contribution is based on the cost of one system (approximately USD 500). The volunteer can also opt to install a series os smaller installations and bring lighting to many different homes.
Swogun Nepal will purchase the appropriate solar systems for the venue from the manufacturer. Each village recipient pays an agreed amount to support the continuation of the Solar Aid program, which helps to fund further systems and also for helping towards the training program. The villagers' average income level and their expenditure on kerosene and batteries determine the level of contribution that they make.
If large enough, private groups may schedule their own program. Even if you are an individual do not hesitate to write us if you would like to make your own program.
We provide Experience Letters and Award Certificates to the volunteers.
This program runs for 10 months a year - except June and July.
Program Cost: USD 1100 for one month. This price includes the following:
10watt solar systems for 10 poor families or equivalent funds: USD 500
Organization administrative fee: USD 150 where does this money go?
Accommodation and meals with the Nepalese family: USD 150 (per month of stay)
Pick up and drop off at the airport.
Lodging or villagers' or private house and food during the solar system installation.
Bus fares, solar technicians' fees, porters and local coordinators, etc.
Depending on your payment preferences, you can make an international bank transfer prior to arriving in Nepal or pay in cash upon arrival at our Kathmandu office.
Contact us at: swogun@ntc.net.np or swogun@hons.com.np