Solar Deepcycle Batteries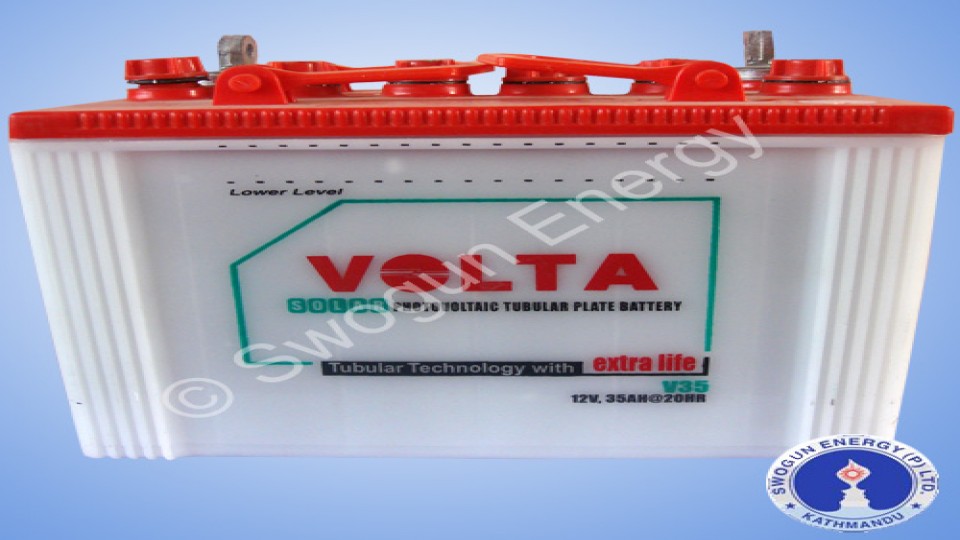 We offer lead acid, ealed mantinance free and GEL solar battery options that are made for renewable energy systems. We carry Concord, Volta, MX Volta and SEC batteries, all of which are ideal for solar homes, remote power needs, industrial and commercial applications, and for use in developing countries like Nepal.
GEL vs. AGM Sealed Batteries AGM (absorbed glass mat) is a special design glass mat designed to wick the battery electrolyte between the battery plates. AGM batteries contain only enough liquid to keep the mat wet with the electrolyte and if the battery is broken no free liquid is available to leak out. Gel Cell batteries contain a silica type gel that the battery electrolyte is suspended in, this thick paste like material allows electrons to flow between plates but will not leak from the battery if the case is broken. More often than not an AGM Batteries are mistakenly identified as a Gel Cell Batteries. Both batteries have similar traits; such as being non spillable, deep cycle, may be mounted in any position, low self discharge, safe for use in limited ventilation areas, and may be transported via Air or Ground safely without special handling. AGM Batteries outsell Gel Cell by at least a 100 to 1. AGM is preferred when a high burst of amps may be required. In most cases recharge can be accomplished by using a good quality standard battery charger or engine alternator. The life expectancy; measured as cycle life or years remains excellent in most AGM batteries if the batteries are not discharged more than 60% between recharge. There are some AGM batteries that offer excellent 80% deep cycle abilities. Gel Cell Batteries are typically a bit more costly and do not offer the same power capacity as do the same physical size AGM battery. The Gel Cell excels in slow discharge rates and slightly higher ambient operating temperatures. One big issue with Gel Batteries that must be addressing is the CHARGE PROFILE. Gel Cell Batteries must be recharged correctly or the battery will suffer premature failure. The battery charger being used to recharge the battery(s) must be designed or adjustable for Gel Cell Batteries. If you are using an alternator to recharge a true Gel Cell a special regulator must be installed.
How Lead Acid Batteries Work A lead-acid battery is a electrical storage device that uses a reversible chemical reaction to store energy. It uses a combination of lead plates or grids and an electrolyte consisting of a diluted sulphuric acid to convert electrical energy into potential chemical energy and back again. The electrolyte of lead-acid batteries is hazardous to your health and may produce burns and other permanent damage if you come into contact us.